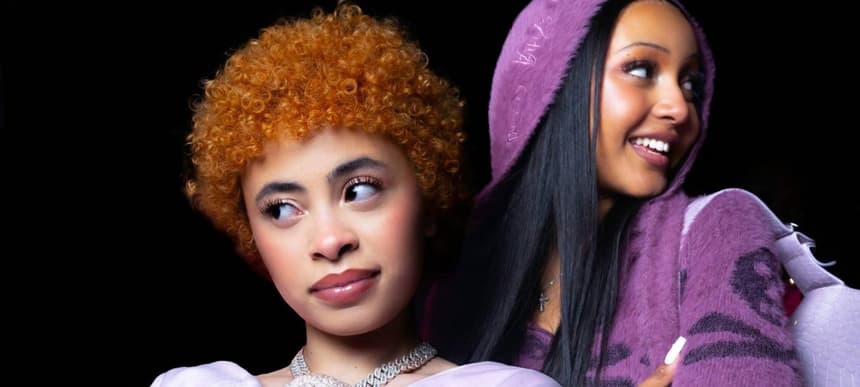 06.02.2023, Words by Billy Ward
"She's actually more cute than a savage": PinkPantheress opens up about working with Ice Spice
The UK and US stars have dropped one of the year's biggest tunes so far...
Over the weekend, PinkPatheress laid to rest all of the speculation surrounding a collaboration with Ice Spice, dropping 'Boy's a liar Pt. 2' featuring the Bronx drill rapper. 
Originally appearing on PinkPantheress' 'Take Me Home' EP last year, 'Boy's a liar' has been given a US-leaning remix complete with a new music video. The British songstress has since spoken about her collaboration with the New York superstar and how it came about. 
"I saw that [Ice Spice] followed me because I was on Instagram, and I never go on Instagram,"  PinkPantheress said in an interview with NME. "I thought it was cool because I didn't think she even knew who I was. I popped in [the DMs] and said, 'Whenever you're in the UK, I'd love to meet'. I think she's really cool, above the music and everything. She said she was a fan [of mine], and I was like, 'OK, amazing'."
"When it comes to collaborations, I'm quite picky," she continued. "I always want someone who can match me well on a track,"  "Even though Ice Spice does drill, her flows are super unique and the beats she chooses are different. A lot of people would struggle with the beats I choose, but I knew she'd be good for it."
PinkPantheress also commented on how Ice Spice helped her to view the track through new eyes.
"My songs are quite dark lyrically," she continued. "With Ice Spice, once you see the world she embodies and what she looks like, it makes you view the music differently. I listened to her and I'm like, 'Oh, she's actually more cute than a savage'. I guess it was a good opportunity for her to show a more vulnerable side. I think it's good to create more of a three-dimensional character as a musician."
Watch the music video for 'Boy's a liar Pt. 2' below: