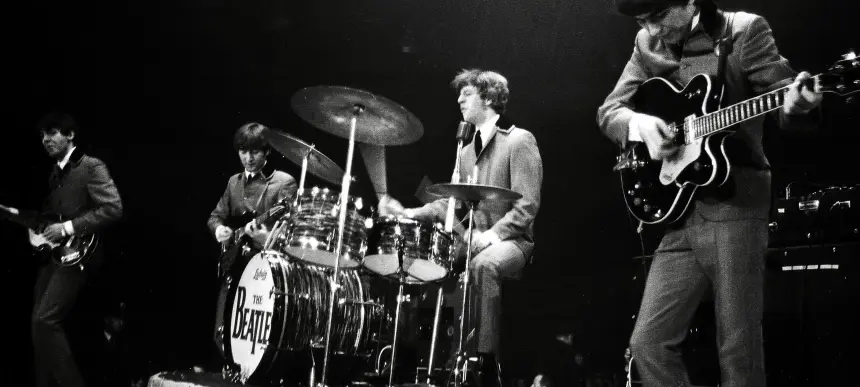 06.04.2023, Words by Payton Dunn, Photos by ANL/REX/SHUTTERSTOCK
The Beatles' earliest UK concert recording has been uncovered
The gig was booked by a school student for just £100 after the release of their debut album 'Please Please Me'
Beatles fans rejoice! The BBC has now revived the band's earliest known UK concert recording.
The hour-long tape was found nearly 60 years after the band gave the performance at a boarding school in Buckinghamshire. Even though the band had already started to explode in popularity, they weren't all the way to fame yet, and that meant that they were able to be booked for just £100 by a student named David Moores. Moores was a true young businessman and sold tickets throughout the school.
The set featured tracks off of the band's debut album 'Please Please Me' like 'I Saw Her Standing There' as well as covers like 'Too Much Monkey Business' by Chuck Berry. Sadly, the only two people to have heard the full recording are BBC journalist Samira Ahmed and Beatles historian Mark Lewisohn, but part of the performance was aired on BBC Radio 4 Front Row on April 3. 
Lewisohn was absolutely blown away by the tape, saying: "The opportunity that this tape presents, which is completely out of the blue, is fantastic because we hear them just on the cusp of the breakthrough into complete world fame. And at that point, all audience recordings become blanketed in screams."

Read next: David Bowie's manager reveals that he had a Ziggy Stardust comeback tour in the works