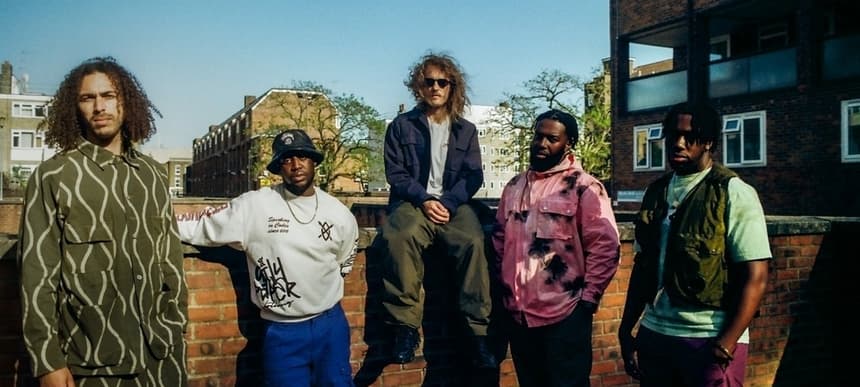 12.09.2023, Words by Billy Ward
Ezra Collective, George Riley, Sampha and more front our NEXT HYPE playlist
Listen to the best new songs from across the genre spectrum
Check out these tracks from our NEXT HYPE playlist, which is dedicated to bringing you the best music from all of the genres out there.
1. Ezra Collective - 'Ego Killah' 
This isn't a new release by the UK jazz outfit, however, after winning the Mercury Prize last week we couldn't leave Ezra Collective out of our NEXT HYPE playlist this time around. After announcing the five-piece as overall winners, the judges went on to say: "The British jazz renaissance of the past decade has been one of the most significant developments in modern music. Now, 'Where I'm Meant To Be', with its touches of reggae, soul, Latin and Afrobeats, its call and response riffs and rhythmic intensity, is a landmark not only for jazz, but for contemporary music in general." 
For anyone lucky enough to see Ezra Collective at Glastonbury Festival earlier this summer, you'll know that this track in particular went off in a big way. It's a song that deserves celebrating and we're relishing the fact that this band are finally having their moment in the spotlight. 
2. George Riley - 'Elixir' 
'Elixir' is George Riley's first solo single of 2023 and coincides with news of the singer's forthcoming EP 'Un/limited Love', out November 10.
Featuring guest production from the likes of Hudson Mohawke, Loraine James, Actress, John FM and Nick Sylvester, the upcoming six track project follows on from past EPs 'interest rates, a tape' and 'Running In Waves', as well as Riley's 2021 collaboration with Anz, 'You Could Be'. 'Elixir' draws inspiration from old school house, with the visual providing a real throwback feeling. The new single - and upcoming project - is her first release since signing to Ninja Tune.
After announcing his first album in 5 years, 'Lahai', at the end of last month, Sampha returns with a brand single and music video lifted from the highly-anticipated project. Following the recent 'Spirit 2.0' release, the Mercury Prize-winner collaborated with Dexter Navy to direct the new music video for fresh track, titled 'Only'. Watch it here. 
Stream our NEXT HYPE playlist below: