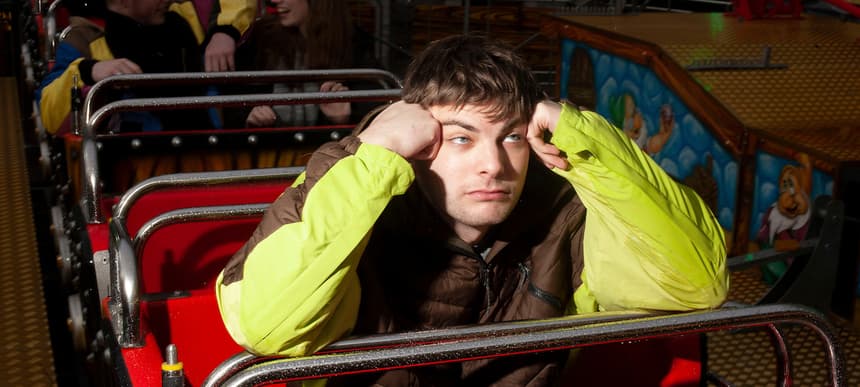 30.05.2023, Words by Billy Ward
Grian Chatten, bar italia, deathcrash and more kickstart our NEW NOISE playlist
Listen to the best new bands and guitar sounds from the underground scenes around the world...
Check out these tracks from our newly launched NEW NOISE playlist, the home for the most exciting new bands coming out of the UK and beyond. 
1. Grian Chatten - 'Fairlies' 
'Fairlies' is the first track to be lifted from Fontaines DC frotman Grian Chatten's recently announced debut solo album 'Chaos For The Fly'. Speaking of the contemplative new track in a press statement, Chatten said: "I wrote 'Fairlies' in intense heat. Partly in Jerez, Spain, partly in LA a couple of days before a Fontaines D.C. tour kicked off. It was a quick write, and I believe I celebrated each line with a beer."
Reflecting on his decision to pursue a solo project, out June 30, Chatten said: "I was walking along Stoney Beach at night and it came to me on the waves. I just stood there and looked at them and I heard the whole fucking thing. Every part of it, from the chord progressions to the string arrangements."
2. bar italia - 'yes i have eaten so many lemons yes i am so bitter'
London band bar italia are the talk of the city at the moment - and for good reason. Fresh off the back of releasing their new album 'Tracey Denim' on Matador Records, the elusive group have been causing an almighty stir during their ongoing world tour. One of the new album's many highlights, penultimate track 'yes i have eaten so many lemons yes i am so bitter' is a loud, abrasive post-punk track, splicing aspects of shoegaze and emo to assert themselves as the capital's coolest rising outfit. 
3. deathcrash - 'Empty Heavy'
Another London band doing bits at the moment are deathcrash, the emo-laced slowcore group who put out their latest album 'Less' back in March. Taken from that project, 'Empty Heavy' sees the band dive head first into the void, punctuating a heavily atmospheric and emotional track with a cathartic burst of sound at the tail end. If you want to get in your feels, this album and band is certainly for you. 
Listen to our NEW NOISE playlist below: