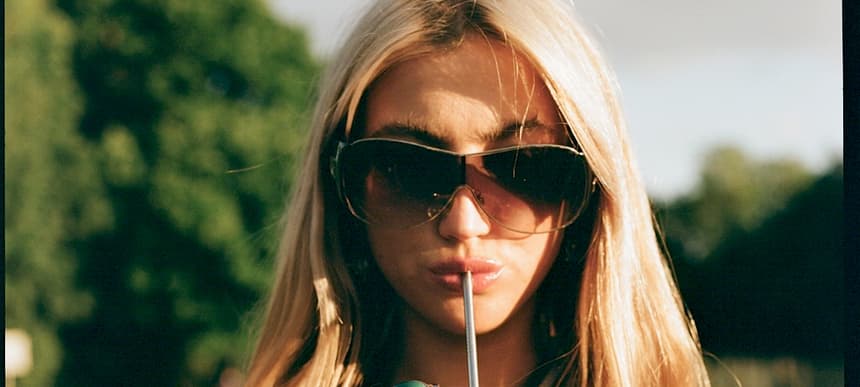 13.06.2023, Words by Billy Ward
The 10 Best Indie D'n'B Tunes, according to Charlotte Plank
"I'm a sucker for a bit of sad girl jungle..."
Bringing something new to the Gen Z rave renaissance currently proliferating club nights and after parties all over the country, 21-year-old Charlotte Plank is one of the UK's fastest rising talents when it comes to dance floor domination. The up-and-coming star landed herself a spot in our 15 Most Exciting Artists for 2023 list back in January and has been proving our judgement right ever since. 
Plank's influences are as far flung as Amy Winehouse and Nirvana right through to Four Tet and The Prodigy, explaining her grungy takes on the modern jungle and D'n'B sound currently being peddled by the likes of Nia Archives and PinkPantheress. Following a massive year of personal growth and achievement, Charlotte recently teamed up with bass music legends Turno and Skepsis for the summer crossover anthem 'Rave Out'.  The trio sought to pay homage to the spirit of rave culture and the cultural integrity and ethics of the rave experience with the new track. To mark the release, we managed to catch some time in-between Charlotte Plank's busy schedule to run through some of her favourite ever indie drum 'n' bass bangers. Check out her choices below.
1. Turno, Skepsis & Charlotte Plank - 'Rave Out'
"Before I went into the session my idea for this tune was a lot more stripped back, writing about a more personal story, about being with someone who goes out a lot/likes to get themselves into tricky situations through going out too much and you're always left picking up the pieces. It then evolved into more of an afterparty anthem. I wouldn't say it necessarily has many 'indie' elements as such but it's still a banger you definitely need to hear."
2. Nia Archives - 'So Tell Me'
"This is my favourite tune of Nia's. I'm a sucker for a bit of sad girl jungle. She weaves in her staple musical DNA so beautifully into this track along with that emotional guitar and the strings. Such an amazing track."
3. Chase & Status - 'End Credits'
"Plan B's vocals are gold. Chase and Status are gold, a collaboration that was meant to be! A perfect balance of atmospheric vocals, pads and guitars, crunchy bass and heavy drums."
4. Charlotte Plank - 'Hate me'
"This track was my first step in creating and experimenting with contrasting genres, sounds and moods. I wanted to find a way to take elements from all my different influences and kind of blend them together, the mix of grungy, floaty guitars, indie pop elements, layered over drum and bass with my own kind of stamp on the genre blend."
5. Imogen Heap - 'Moment' (Vierre Cloud Remix)
"I love Imogen Heap so much and the original of this track is a favourite, but the Vierre Clouds remix brings it into a whole other speedy, atmospheric drum and bass world."
"I love Noisy and their sound. As they say, they 'are a band, who sound nothing like a band'. They sit perfectly in between indie rock/pop and the heavier electronic dance world. This track is a favourite of mine."
7. Willow Kayne - 'I Don't Wanna Know'
"Such an iconic song by an iconic girl. I love her sound and the blend of influences you can hear in her music!"
"Venbee's songwriting is top tier and this song is so beautiful, how it starts so stripped back and intimate with just her and the piano, then I love how it drops."
"Biig Piig has been an inspiration of mine for a long time. I love how she fuses different genres together so seamlessly, all with her own lilt. The tune perfectly does that, you can feel the tension and the pressure the song evokes throughout."
10. The Prodigy - 'Breathe'
"I love so many elements of The Prodigy's music. The intro to this tune is iconic and the guitar part that comes in around 2 mins in is one of my favourite bits. The simplicity and grit in their musical parts and the way they get every bit to stick in your head is what I love about them."