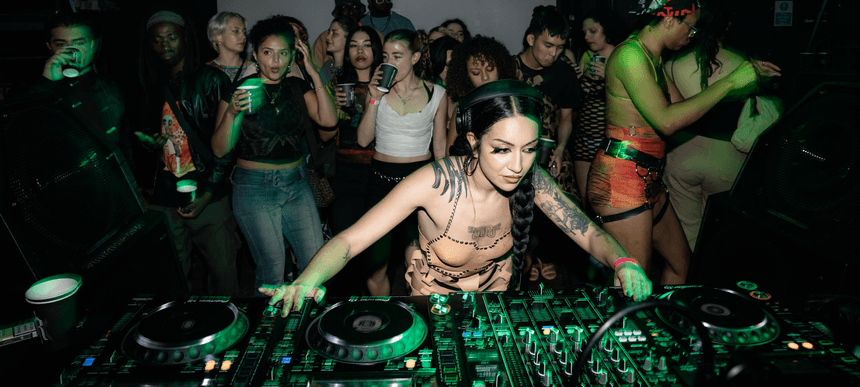 08.06.2023, Words by Billy Ward
'Without Limits': Looking back at the Keep Hush x Relentless rave series
Headliners like Scratchclart, Grove and Manuka Honey showed why London's party scene is so good...
Keep Hush are known for throwing some of London's best parties about. Founders Fred and Freddy started the company in a tiny basement, where they would clean an office building every day in return for desks. From its humble beginnings, the platform has gone on to become one of the best in the business for showcasing cutting-edge dance music from the underground.
The concept behind the 'Without Limits' series, who they partnered with Relentless with, was all about pushing the boundaries of music, and looking into how genres from around the globe can be blended, revisited and remixed into the UK dance sound. Fronted by rising star Grove, scene pioneer Scratchclart (Scratcha DVA) and Manuka Honey, the three headliners brought with them enough exciting talent to make even the most avid dance music fan's mouth water.
It's worth mentioning that none of the brilliance that unfolded over the next three events (which we'll shortly get into) would have been possible without Relentless. After partnering with the likes of Stormzy and Aitch, the energy drink company is extending its reach into the world of UK music and providing platforms for creative expression, with 'Without Limits' marking another major step towards their goal.
Set across three dates (22nd March, 19th April, 9th May) at the iconic Elephant & Castle venue Corsica Studios, 'Without Limits' saw Keep Hush and Relentless join forces to help young people explore how they can push boundaries in their lives. Below, we break down all three events, explaining a bit about what went down on each of the nights, while chatting to the artists who made it possible.
Event 1: Headlined by Grove - 22 March 2023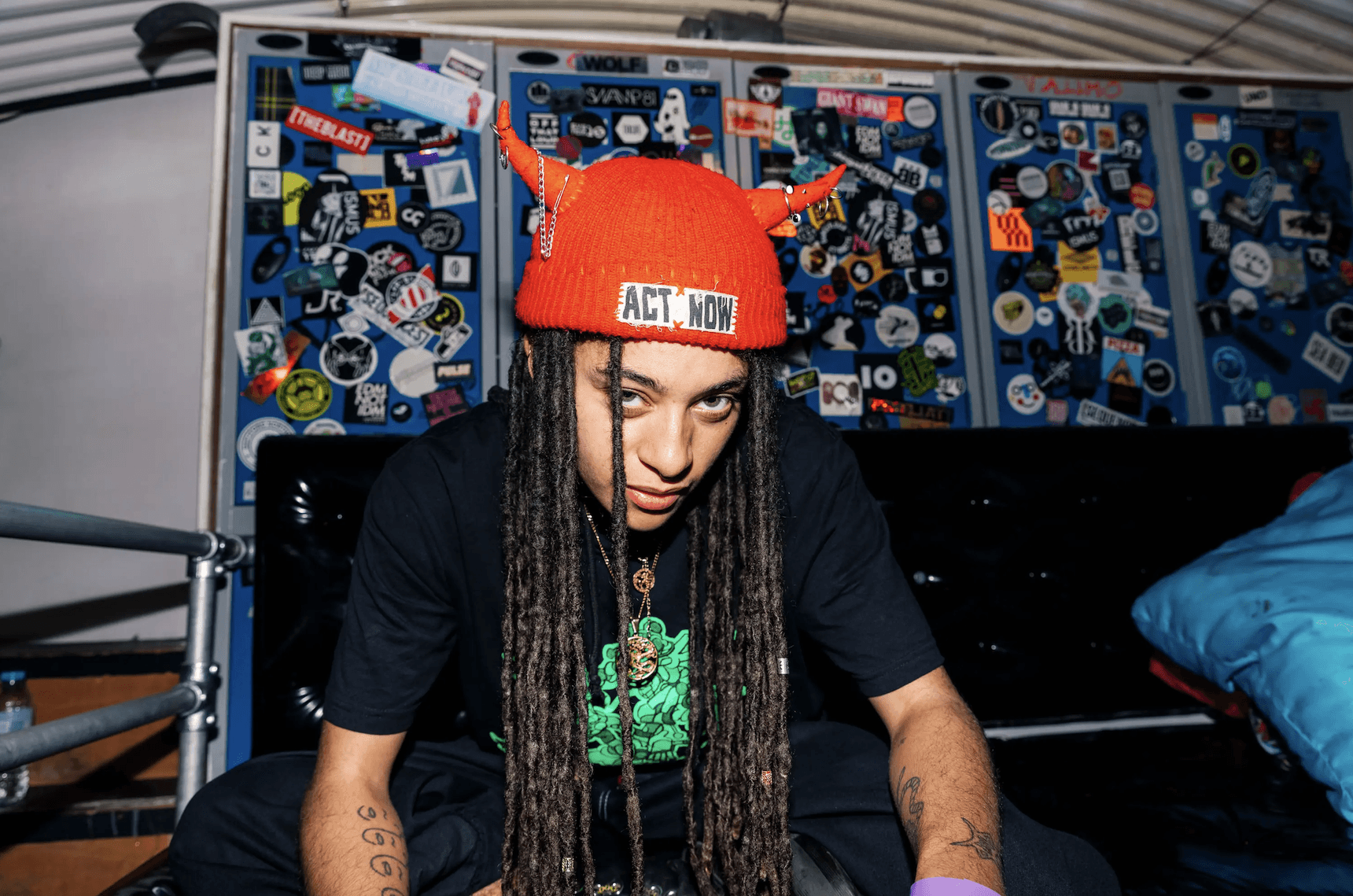 The first of three parties to take place at Corsica Studios over the next few months, rising Bristol star Grove proved why they're one of the most exciting talents about with a frenzied DJ set that won't be forgotten any time soon.
Hailing from Cheltenham but currently based in Bristol, the politically-charged lyricist has made a name for themselves dissecting issues of class, identity and corruption over massive productions geared for the rave.
Grove's selecting skills on the night didn't mess about either, shaking the walls of Corsica Studios with an eclectic, high-octane mix of bass-heavy cuts and an insane amount of stage presence. Ricocheting between grime, dubstep, breakbeats, heavy metal and the occasional Girls Aloud remix, the Bristol DJ had the crowd encircling the decks in the palm of their hand.
"The bass was so heavy, the sound system was so big, it's like close your eyes and you feel at one with the sound," said Grove when they spoke to us previously.

This sweaty, crowded night at Corsica was everything a rave at the iconic Elephant and Castle venue should be, and set the tone for the remainder of the series.
Read our full interview with Grove below: 
Grove lit up the first Keep Hush x Relentless 'Without Limits' event
Event 2: Headlined by Scratchclart - 19 April 2023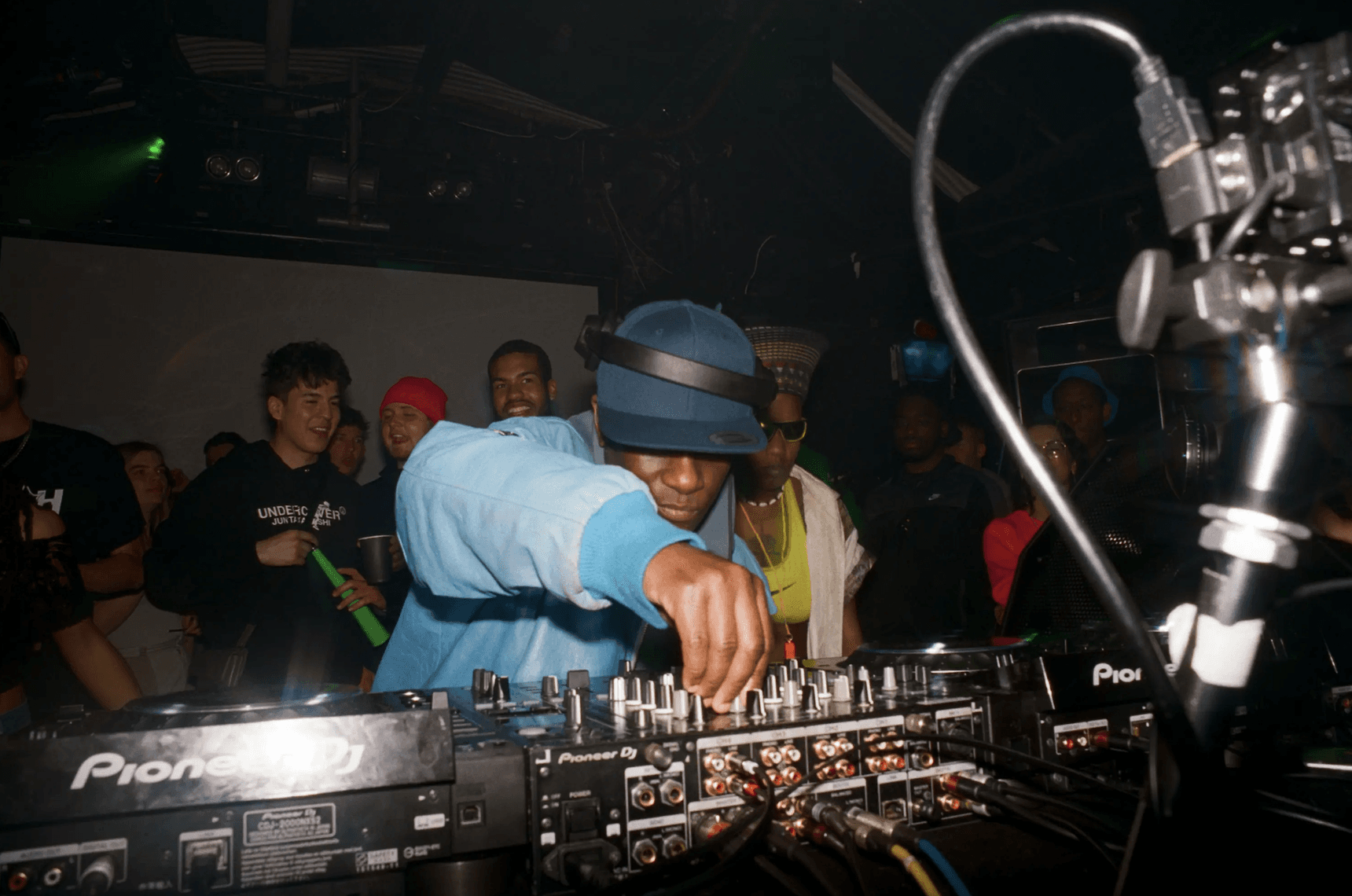 'Without Limits' is all about pushing boundaries, so who better than Scratchclart - the ultimate UK dance boundary-breaker - to headline the second event.
Since lockdown, South African dance music has exploded into the spotlight across the world and Scratcha has been one of the driving forces behind bringing that sound to a UK audience. Enlisting the boundary-pushing Zulu verses of SA-hailing talent Toya Delazy, the trailblazing producer and DJ fused the face-screwing nostalgia of golden era grime and UK funky with the high tempo, soulful twang of gqom and amapiano.
Scratchclart brought an old school rave vibe to the South London venue by passing around a box of horns and vuvuzelas in the final moments leading up to his set, mixing international sounds with unreleased Pa Salieu material and much more.
Following his performance, Scratchclart explained his decision to involve the native South African horn on the night: "In around 2008 the recording studio I worked at was on top of a club. I would finish my sessions recording all of this stuff in the day and then in the night I would go downstairs into the club. There was this crew called The Circle, a lot of them still DJ now actually. When these guys came in they came in with horns and whistles, so it would be like a club and they would turn it into a rave. I always thought 'that's sick I like that' so I've basically adopted that idea into what I do now.
"It made a difference on the night didn't it? If I go and listen to old rave tapes, like jungle, drum 'n' bass or even old house ones, you hear all the horns in the back. Throughout the whole thing all you hear is horns and it just sounds really ravey. So I thought I want to bring that energy. Every time I've done it it's gone off really well so I think I'm going to continue to do that."
Read our full interview with Scratchclart here: 
"I want to bring that energy": Scratchclart unpacks his South African-influenced 'Without Limits' set
Event 3: Headlined by Manuka Honey - 9 May 2023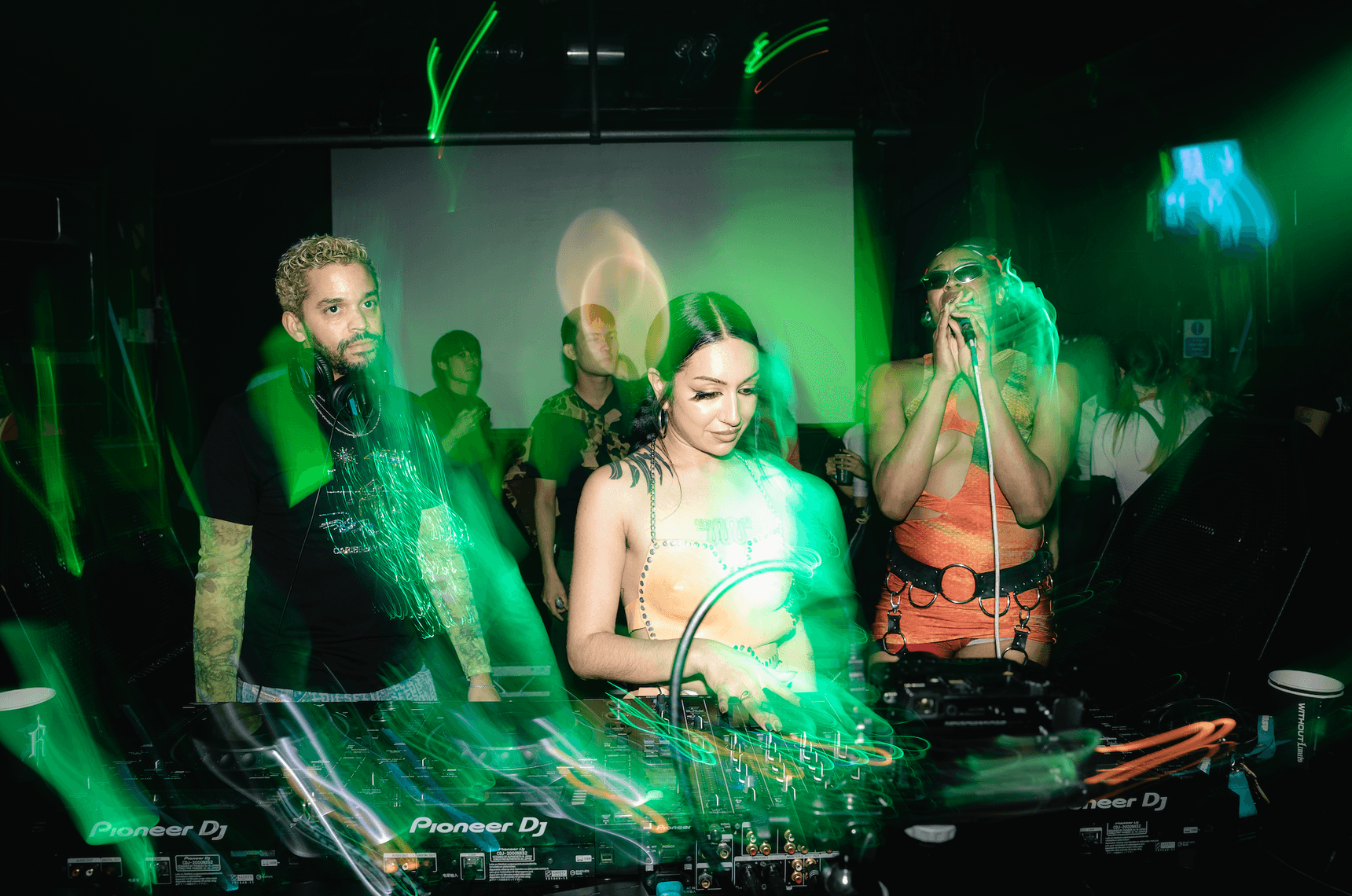 Like the first two nights, the final event of the series was another huge success. This time around it was London-based multi-disciplinary artist, producer and DJ, Manuka Honey, who brought the party. Taking place May 9, the third 'Without Limits' party landed on the Tuesday after a hectic bank holiday weekend. You'd be forgiven for assuming that numbers would be lower, party-goers would be tired, and the high energy present during the first two events would take a dip - but this simply wasn't the case. Corsica Studios opened its doors to yet another bubbly and high-octane crowd and Manuka Honey and her friends did what they do best.
Exploring diasporic language formation, mysticism, and occult practices in her music, the US-born talent brought her party-starting prowess to South London to cap off the successful run of raves. Joining Manuka on the night, Ex.sses, Glor1a and Oscar NÑ helped spotlight Latin America and its diaspora, as well forming a full line-up spectrum of Queer representation.
"I was so happy with that night and so honoured to have local and international guests on the line up, i was really excited about curating that. The turn out was great, anyone who came was really ready for any vibe. It was a really sexy, intense environment."
"I started on hardcore, slow vibes and i think the overarching theme was that it was very sexy. People turned up in the hottest outfits and were surrounding me the whole set. I was playing French dance hall, reggaeton edits and instrumentals, it had some really dark moments, people doing dances from their own cultures. It got progressively more unhinged as the night went on, by the time excess played everyone was so riled up. Everyone was so hyped so consistently."
Pushing boundaries...the 'Without Limits' way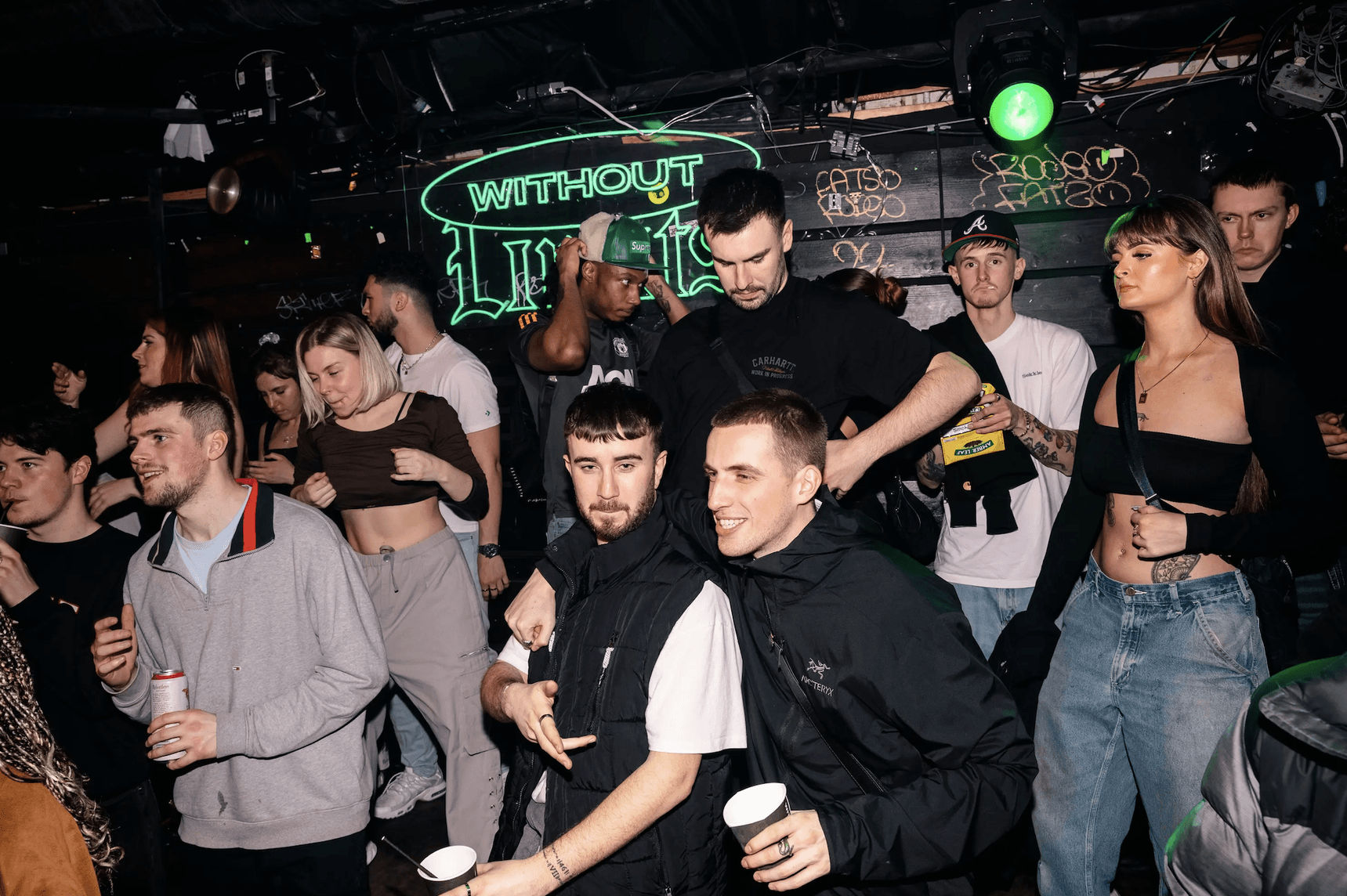 'Without Limits' was an event series about pushing boundaries, for boundary pushers. Relentless and Keep Hush successfully orchestrated three truly forward-thinking, cutting-edge nights, incorporating sounds and cultures from the fringes of society into a massive party for all.
Talking about pushing boundaries in their own life, Grove explains: "I think in order to comfortably push boundaries and feel like you can tread into uncharted territory, it's important to have a solid foundation and grounding of who you are as a person. I got that understanding in music through being involved in lots of community based projects when I was younger."
Scratchclart, on the other hand, has a more simple message: "Whatever you want to do, fucking do it."
He continues: "I know it sounds so simple and so boring but there's someone out there who isn't going to do something because of someone else or because of some other thing which is external to them and I think thats the worst way to look at it. If you want to do something, do it. That's it."
Final headliner, Manuka Honey, adds: "For me pushing boundaries is so normal, it's standard practice. I would say take criticism, don't be afraid to say when you've done something wrong but also don't be afraid to upset people."
Overall, the Relentless x Keep Hush 'Without Limits' was a huge success and loads of fun. Check out our full interviews with Grove and Scratchclart below: