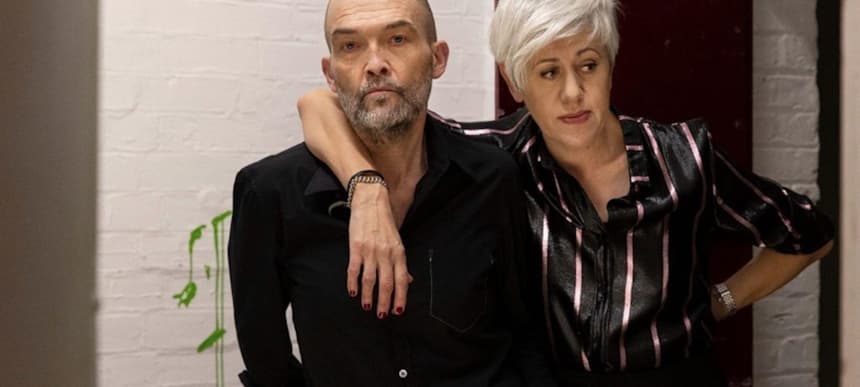 28.02.2023, Words by Payton Dunn, Photos by Edward Bishop
Everything But The Girl, Jasper Tygner, Overmono, and more front our ELECTRONICS playlist
Listen to the best new songs the electronic scene had to offer this week
Check out four tracks from our ELECTRONICS playlist, which is dedicated to bringing you the best music from across the dance spectrum.
1. Jasper Tygner - 'FLLL'
Berlin is inarguably one of the biggest centers of nightlife in Europe, and the scope of the electronic scene there triggered something in the mind of Jasper Tygner. His trip to the bustling city inspired him to apply his own framework to the music he heard there, saying, "I wanted to make my own version of some of the techno I had heard, something with interweaved melodies and chords, but still leaning on texture and structure to drive the track."
That framework led to his new EP Real Time, which featured the pounding song "FLLL" right at the end to close it all out. That energy was completely undeniable, making it our favorite new electronic track of the week.
2. Everything But The Girl - 'Caution To The Wind'
It'd been almost two decades since we'd heard from Everything But The Girl. The critically acclaimed indietronica duo returned last month with their song 'Nothing To Lose', and 'Caution To The Wind' marks just their second single this year. Both tracks are off of their upcoming album 'Fuse', which is set to be released on April 21 via Buzzin' Fly/Virgin.
Even though their old music falls firmly into the classics category, the duo is making sure to shake it up with their comeback instead of merely recycling their old tricks, explaining: "We've never been a particularly nostalgic band – we've always been known for making a different record every time. Sometimes that's meant going against the mainstream, but we just try to keep ourselves interested and keep things contemporary."
3. Overmono - 'Calling Out'
'Calling Out' will have you in a trance by the time you're done listening to it. The hypnotic track is the latest instalment of Overmono's career and is the third single off of their upcoming debut album Good Lies, which is set to be released this coming May.
The musical ideas that culminated into 'Calling Out' had been bouncing around in their brains for ages before the release of the track, with the duo explaining, "We've had these chords written for quite a while now and could never find quite the right context for them. One night we were procrastinating in the studio, mostly just drinking and slamming some CASISDEAD and slowthai tracks. We'd been listening to them a lot as they have an incredible way of consistently delivering unexpected music and we find that approach really inspiring."
"Then we had a bit of a eureka moment and realised it might have been the type of sound we were looking to go with alongside that chord progression so we stayed up all night and finally got it done."
4. Elýščítat -'HEALING'
'HEALING' clocks in at just under seven minutes, making it the longest entry on this week's playlist. Don't let the length fool you. 'HEALING' is still an absolute pleasure to listen to the whole way through, taking the listener on a journey from its ethereal beginnings and into the chaotic textures that define its soundscape throughout. The song combines rapid-fire percussion with experimental synths to create one of the trippiest songs of the week.